Hello friend.
If there's one thing we've learned in the years we've spent obsessing over how to talk to people over email, it's this: Timing matters. 
Even super interesting content goes unread if the timing is off. It's like bumping into a neighbor. The convo is brief if you run past them on your morning jog. Compare that to a warm chat while standing in line at the coffee shop. Timing, my friend.
So, what's the email equivalent of the long coffee shop line?
The core of the workweek is best: Tuesday, Thursday and Wednesday (in that order). Avoid Mondays. People are more apt to go on a delete spree coming off the weekend. The research varies in terms of what time to send email. Generally late morning is better than nighttime because… well, sleep. We recommend testing different times to land on what works best for your audience.
We like this advice from Mailchimp: In order to understand when to send to your audience, you need to understand your audience, not your content. Who are these folks?
A 7-Day Email Time Checklist
… looks like this one from CoSchedule.
Tuesday at 10 a.m.

Thursday at 8 p.m.

Wednesday at 2 p.m.

Tuesday at 6 a.m.

Thursday at 10 a.m.

Wednesday at 8 p.m.

Tuesday at 2 p.m.
Test different times and see what works best. OptinMonster found roughly 58% of people start their day checking email before doing anything else online. Think about your typical reader and the flow of their day. This Mailchimp graphic is a good example of how timing can vary depending on what your reader does for work.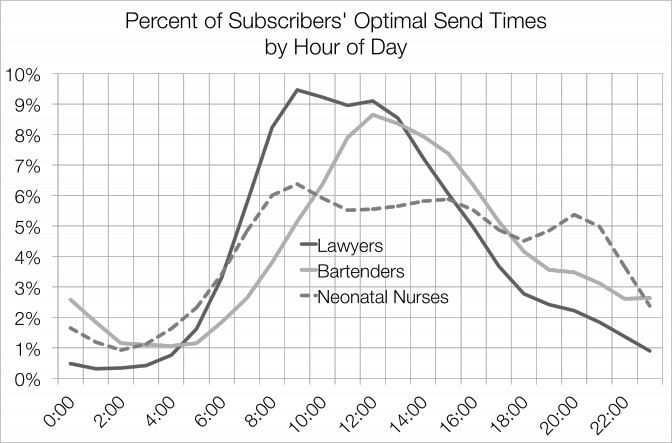 MORE READING
 The Very Best Time to Send Email Newsletters: "That's the advice. Now ignore it." How to find the best time to send your newsletter. 
 What 14 Studies Say About The Best Time To Send Email: A greatest hits list of email timing research.
 Why Does Email Sending Time Matter?: Also a look at how ideal email times differ B2B and B2C.
May your timing be good! We'll see you next week.
— Team rasa.io